2024 Kids and Country Gala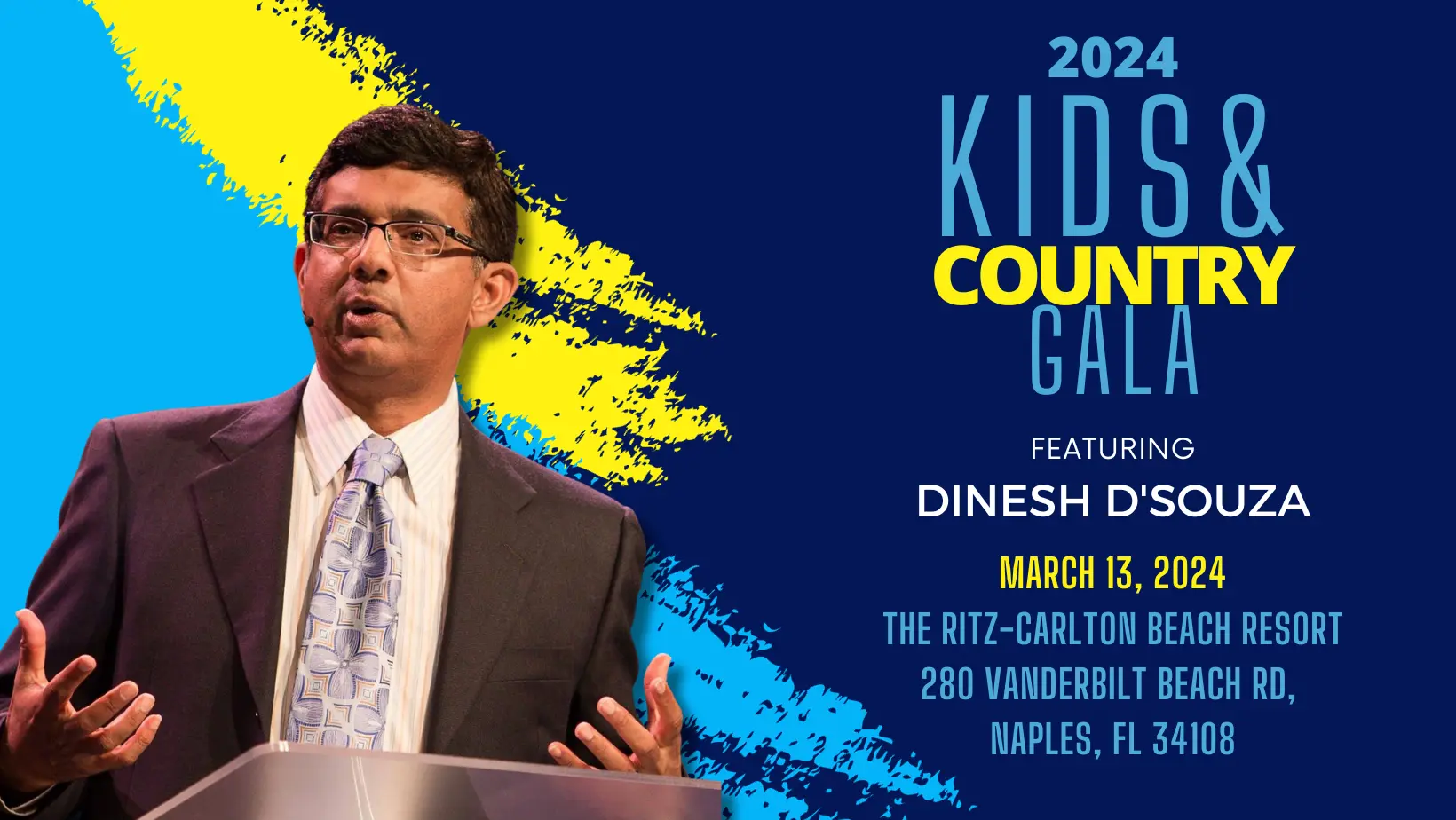 🌟 Join us for a Night of Inspiration at the Florida Citizens Alliance Annual Gala! 🌟
🎟️ Tickets: Early Bird Price: $450 (Available until November 30th)
🍸 Cocktail Reception: 5:00 PM
🍽️ Dinner and Auction: 6:00 PM
Prepare for an unforgettable evening as we come together to celebrate education, empowerment, and community. Our annual gala is a night of elegance and purpose, and we are thrilled to announce our distinguished keynote speaker:
🗣️ Keynote Speaker: Dinesh D'Souza
Dinesh D'Souza is a prominent conservative scholar, filmmaker, and commentator known for his influential contributions to American political discourse. With a career marked by thought leadership, D'Souza has been a prolific author and filmmaker. He has authored numerous best-selling books exploring topics ranging from race and immigration to American exceptionalism. D'Souza's compelling documentaries, including "2016: Obama's America" and "Death of a Nation," have garnered widespread attention and reinforced his status as a leading conservative voice. As a public speaker, he has engaged audiences across the nation on critical political and cultural issues. Dinesh D'Souza resides in the United States and continues to play a pivotal role in shaping the conservative conversation.
🗣️ Guest Speaker: Connor Boyack
Connor Boyack is the founder and president of Libertas Institute, a free market think tank in Utah. Named one of Utah's most politically influential people by The Salt Lake Tribune, Connor's leadership has led to dozens of legislative victories spanning a wide range of areas such as privacy, government transparency, property rights, entrepreneurship, education, personal freedom, and more.
A public speaker and author of over two dozen books, Connor is best known for The Tuttle Twins books, a children's series introducing young readers to economic, political, and civic principles.
Connor lives near Salt Lake City, Utah, with his wife and two homeschooled children.
🎟️ Tickets:
Early Bird Price: $450 (Available until November 30th)
Don't miss this exceptional opportunity to join us for an evening of inspiration, fine dining, and an exclusive auction. Your presence and support are instrumental in advancing our mission to empower education in Florida.
Reserve your seat today, and let's make a difference together! We look forward to sharing this remarkable evening with you.
See you at the gala!